Bellevue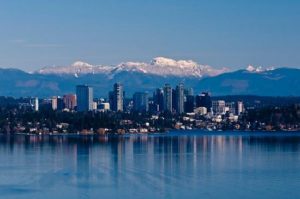 To regard Bellevue as just a Seattle suburb with a "beautiful view" is to overlook its status as the second largest city center, boasting over 130,000 citizens, and sixth wealthiest town in the state. You can't just focus on the thousands of shades of green on its hills and ignore the busy shopping destination that is Bellevue Square and the growing university. Get yourself to turn away from gorgeous Lake Washington for a bit and admire the many health care and high tech companies that have contributed to Bellevue's commercial and industrial success. Yes, Bellevue is a "City in a Park," but its skyline filled with high rises rivals Seattle's on the other side of the lake.
With several distinctive neighborhoods, you will be hard-pressed to choose exactly which part of this community you prefer. Magnificent views can be captured from Newport Hills, Woodridge Hill, and Somerset Hill, and you can pick from established community to new construction. Perhaps you would want to be close to one of the many golf courses available here, or maybe you have a favorite among the dozens of parks, trails and green spaces comprising a total of over 2,500 acres. Or maybe you would like to be one of the 5,500 local volunteers assisting at the Bellevue Botanical Garden or a docent at Kidpsace Children's Museum or the Bellevue Arts Museum. Evenings might find you at the Meydenbauer Center for a musical, theatrical or dance performance. Everyone from singles to seniors can find something to do here every day of the week. There are as many annual events in Bellevue as there are months of the year, from Wintergrass and the Jazz and Blues Festivals, to the Bellevue Magic Season and Snowflake Lane, to the Eastside Heritage Center's Strawberry Festival, Bellevue Arts Fair and Taste of Main during the summer. In Bellevue, the choices are endless and all of them are wonderful. Visit Bellevue Info Page HERE!
Homes for Sale in Bellevue!