Your Realtor On Two Wheels!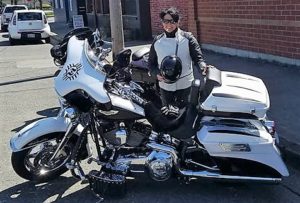 I am a residential real estate professional who works 50 to 60 hours a week, including weekends when I host open houses. For these reasons alone, there is nothing more relaxing for me than riding down an open highway watching the scenery while listening to my favorite music. I have loved riding ever since I was a teenager in Montreal, getting around town on scooters or riding on the back of my cousin's motorcycle. Upon meeting me you might think there is a disconnect between my elegant and classic style and riding my 750-pound Harley-Davidson Softail Deluxe with a 1,585-cubic cm engine, however, there is not! Riding is what I do to maintain my positive can-do attitude and mindset. It keeps me sane, and it is a nice therapy for this career's intense schedule.
There are lots of reasons why I love being a real estate broker and helping great people buying or selling a home. One of them is that my schedule allows me to follow my passion as often as possible. I also support, embrace and inspire women riders and ALL that support women and motorcycling, and, of course, I like to ride with everyone who has a passion for their "Steel Horse I Ride" to quote Bon Jovi's song.
If you are a fellow rider, I am excited to meet you and discuss our common interests. In the meantime, 425 Business Magazine in Seattle, WA, did a write-up of my love for the open road and you can read the article HERE.
In Idaho with our great friends who moved there!
After a long day riding hard – time to relax!
Going for lunch in Enumclaw, WA 2018