Redmond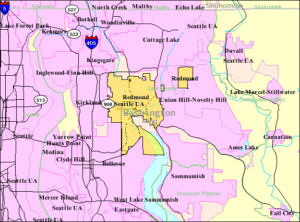 Would you rather live in the #1 Happiest Town in Washington, the #1 Best Place to Start a Business in Washington, a town that earned Feet First's Walkable Washington Innovation Award, one of the Best Places to Raise Your Kids, or one of the Top Five Best Places to Live in America? If you choose Redmond, you get it all. Once a short commute choice for those working in several local high-tech companies, now, thanks to careful planning, Redmond has become a beacon for those who appreciate the natural beauty garnered from skirting Lake Sammamish and the Sammamish River topped with an edgy suburban vibe. Year round, free time finds Redmonites playing out in the more than one thousand acres of developed parklands and hiking or biking the seventeen miles of trails, or competing in the state's only velodrome at Marymoor Park. The amphitheater there hosts concerts as do the Eastside Symphony and Second Story Repertory Theater Company. Teens revel in the musical events offered at the Old Redmond Firehouse while everyone takes in the visual arts on the streets during the rotating outdoor sculpture exhibition, and active seniors enjoy the busy activity schedule at the Redmond Senior Center. Bike riding takes a front seat for several days during Redmond Derby Days, and Redmond Lights opens the winter holiday season with a carousel, skating rink, and a luminary walks along the Sammamish Trail.
Since Redmond was incorporated over 100 years ago, you can find gorgeous Craftsmen homes as well as mid-century beauties closer to downtown, and then dotting the hills are newer developments. Within the last few years and continuing today, active adult communities and golf course neighborhoods have been constructed while preserving the natural green space residents here treasure. Great schools, great fun, and grand views await you in Redmond. Visit Redmond Info Page HERE!
Homes for Sale in Redmond!